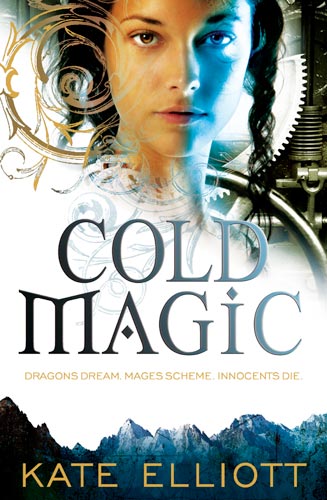 If you like steampunk, ice magic, the His Dark Materials trilogy, and/or cats you will probably like this book.
Schephs: ********– 8 out of 10
Cold Magic is my first introduction to Kate Elliott's work, although I can't count the times I have picked up one of the books from her Crown of Stars series and then put it back. I don't remember now why I never bought one. So in respect to her other works, I can't compare this first book of the Spiritwalker trilogy. I can say that I really enjoyed this book and I will probably get into the Crown of Stars series (or one of her other series). I certainly understand why this book is recommended to fans of the His Dark Materials trilogy, which happens to be one of my favorites.
Cold Magic is a steampunk tale with a science-vs.-magic twist ( I haven't really encountered science-vs.-magic before). The main character, Catherine Hassi Barahal, is a young university student more inclined towards science when she is thrust ceremoniously into the clutches of the cold mages. Soon enough, the true danger of her situation is made clear, leading to great steampunky fantasy adventure.
Victorian sensibility–generally part and parcel of steampunk–and I aren't on speaking terms, and my only previous experience with steampunk is the His Dark Materials trilogy. Nevertheless, I plunged headlong into this story and I couldn't have enjoyed it more. All characters are fleshed out: primary, secondary, tertiary, even…uh…fourth (quaternary?). Every character's presence adds to the story, no matter how small a part s/he may play. Catherine is a wonderful character, equally flawed and endearing. Although occasionally she expresses the usual rapid-witticisms-in-the-face-of-danger-because-I'm-a-strong-female-heroine-damnit, there were more times when she was too scared, intimidated or withdrawn to speak her mind, or even to speak at all. So though she is strong enough to be a convincing heroine, she is also vulnerable enough to be a convincing person.
If I had any complaints about this book, they are related to the world itself, an alterna-parallel of ours. Overall the world was well-built and believable, but sometimes there was just too much going on at once and it could be a little overwhelming. For the most part, I loved this inundation of culture; it kept me engrossed in the story and moved events along. Every now and then, however, I would get a little lost and have to re-read a passage one too many times. And while I loved the spiritual aspect of this story, I felt that some of it was handled too casually, making it seem more ridiculous than somber at times. (I'm not talking about gods/religion here; you'll know what I mean by spiritual if you read it.)
Other than those few qualms, I enjoyed this book and I'll be following this series. It's been a couple of books since I read something I enjoyed so much, or that made me feel so exuberant and scheph-filled. I also intend to read some of Elliott's other books. If you have a recommendation for which series I ought to start with first, please leave me a comment.